Module: Tax Accounts

Path: Company Data > Payment Data > Tax Accounts
Version(s): 5.1 and up
Editions:

---
What Are Tax Accounts?
Tax accounts is where you will setup your credentials for external tax providers.
---
Making The Connection

Where Will I See This Within OLX?

Tax on orders are now determined via the designated Tax Account set on the
Script
.
What Reports Can Be Pulled?

Currently there are no reports correlating to the Tax Accounts.
What Imports/Exports Relate to xxxx

At this time there are no default Imports/Exports for Tax Accounts.
---
Trouble Shooting

---
Setup

Navigate to Company Data > Payment Data > Tax Accounts


Utilizing the buttons on the tool bar

you can:
Go back to the previous screen

Add new

Print

Minimize module

Filter

You can use the filter options to narrow down the displayed selections.


Account Name

Tax Provider

Client

Add additional filters by click the Add button

Apply the filtered selections by clicking Apply Filter

Remove the filtered
selections
by clicking Remove Filter

To show inactive accounts in the displayed records check Show Inactive

You can set the number of records to be displayed


Add New Account

Add a new account by clicking the Add New Record button

from the top tool bar.
An Edit Tax Account popup will display with minimum required fields: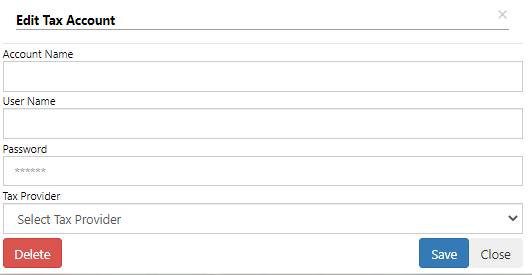 Account Name - any name designated within your organization to reference the account being setup

User Name - this will be determined via the credentials used to login to the Tax Provider

Password - this will be determined via the credentials used to login to the Tax Provider
Tax Provider - the drop down will display only tax providers that have specifically been installed for your instance


Please reach out to Orderlogix for more information on adding a Tax Provider to your instance.
By selecting the Tax Provider from the drop down you will populate the provider specific required fields: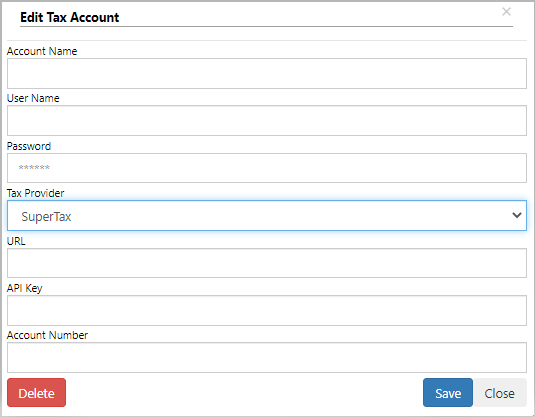 The fields shown here will be determined by the Tax Provider. Please communicate with your representative through them to determine the information needed.
* To save the changes click the Save button
.
* To cancel any of the current changes you have made click the Close button

.
This will close the window without saving any changes.

* To delete the selection click the Delete button
.
This will prompt you to make sure you want to delete this item.

Clicking Delete will delete the selected item and close the window.